K9 Campaign
Main Content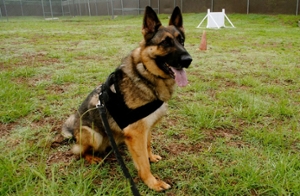 The Southern Illinois University Carbondale Police Department is seeking donations to start a K9 Unit. The K9 will be trained in explosives detection and tracking. The initial cost to acquire a fully trained K9, training for the handler, and a dedicated vehicle is approximately $50,000. The superior sense of smell and hearing of a law enforcement K9 is a valuable tool for police departments.
Over the last few years the SIU Community has seen an increase in bomb threats to buildings and residence halls on campus. During these incidents the SIU Police Department had to rely on an outside agency to provide K9 assistance. A fully trained explosives detection K9 would be utilized during such incidents to search for suspicious packages or items that may contain explosives. An explosives detection K9 is trained to identify the scents of several common explosive materials and notify their handler when they detect one of these scents.
The acquisition of an explosives detection K9 will allow the SIU Police Department to provide additional protection and services to the SIU Community and surrounding areas. The explosives K9 will be utilized during sweeps of Saluki Stadium and the Arena prior to sporting events, sweeps of areas for special events, sweeps of areas during bomb threats, and other community related events. Thank you for your consideration and partnership in purchasing a law enforcement partner that will work to make the community we live in a safer place for everyone.
Donations are made through the SIU Foundation and are tax deductible.
Nina (above), a military working dog, was killed in action in Afghanistan while deployed with her handler, Sgt. Daniel M. Wilker, 6th Military Police Detachment K9 Section. Photo Credit: Courtesy Photo via US Department of Defense.